Estimated reading time: 2 minute(s)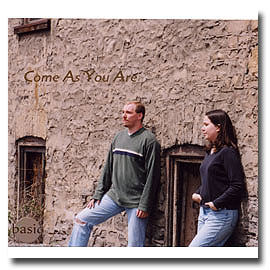 Come As You Are
13 Tracks
Released Aug 29, 2002
Retail: $15.98
Available at:
basicmm.com | iTunes | Amazon (CD or MP3) | CDBaby.com | Village Bookmarket (Palmyra, NY)
(Also available in various other locations… have fun searching!)
Really hard to believe that it's been seven years since the original run of Come As You Are CDs and tapes was "printed". (And in other ways, seems like another life time!) In honor of the release date today we have been listening to the album in the Campbell home with the kiddos. First time several of them have really gotten to listen to the songs! It's been fun!
And I thought maybe you might want to again, too.
If you already have the CD (or MP3s) please pop it in today and have a listen. It's a pretty great collection of songs that remind us of how much God really loves us. Really. No matter how ugly or unloveable we may feel – even in our worst moments. The CD is appropriately named, to be sure.
Musically there are some really great moments I forgot about. Some great harmonies, fun dynamics, cool extra instruments like cello, mandolin, d'jembe… even harmonica! Slower songs, upbeat songs, songs with a cool groove. Acoustic songs, super-rockin' "electrified" songs… and even one with just two voices and a piano.
If you haven't ever gotten it, I really think you'll like it. They are $10 from our website, $9.99 at iTunes … AND, if you want to get a few more CDs, you can get it for $5 at CDBaby.com (it's part of a deal where you can get certain CDs for $5 if you buy just 3 CDs! *HINT* … we have four other CDs on their site….) 🙂
So, seven years later the songs still can be and are being enjoyed by many people around the world… and you could be one of them! Give it a listen today!