Estimated reading time: 1 minute(s)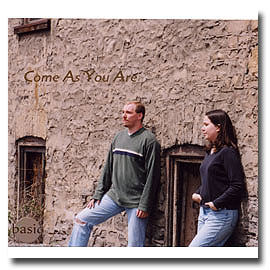 Today is the 5th anniversary of one of our albums, Come As You Are. CAYA, as it is known around here, is CD that I recommend to people who don't have any of our CDs. I think the Christmas album is my favorite overall, but this one is the best collection of songs that captures most of our sound. From one instrument and two vocals, to nice acoustic rhythm stuff, to a full-on electrified rock out song (or two). It's definitely a favorite.
We had a big CD release party on August 29th, 2002, and I think around 200 people came to celebrate with us. If you were there, thanks for coming! If you didn't yet get your copy of CAYA, you still can!! 🙂 We have some, and you can just order through our site. Or, you can always pick it up at iTunes. Or just a track or two, if you want.
(By the way, I just noticed when getting the iTunes link… there are no reviews there on that page. Anyone who knows the album care to leave one? That'd be swell!) 🙂
So, it's a fun day in the basic world, and just thought I'd share. Five years is a long time. But actually, the songs on the album are as old as 14 years old now! That's awesome! 🙂
Happy Birthday, CAYA. 🙂